Long before I moved to Germany, I saw this so-called "German costume" (The Dirndl dress) as a kid on TV, in magazines, and later at parties and the HongKong-Oktoberfest. But only after I moved to Germany did I know that dirndls are mainly worn in the German-speaking Alpine region (Southern Germany, Austria, Liechtenstein, Switzerland and Alpine regions of Italy), but not in all of Germany.
The Dirndl is simply breathtakingly beautiful: They are available in all colours, in different cuts and they look good on every woman. I'm totally in love with the dress and it's not enough to wear it, I have to draw it. They are not too high-priced but I would also say that they are not cheap. Dirndl dresses cost from around 70 to 300 Euros. Yet they are "expensive" for a reason: after seeing the authentic and high quality, well-made beautiful Dirndl in Munich, I realised that some so-called "Dirndl" that I had seen at parties in the past, are only cheap party costume just for fun.
I've drew 6 of them.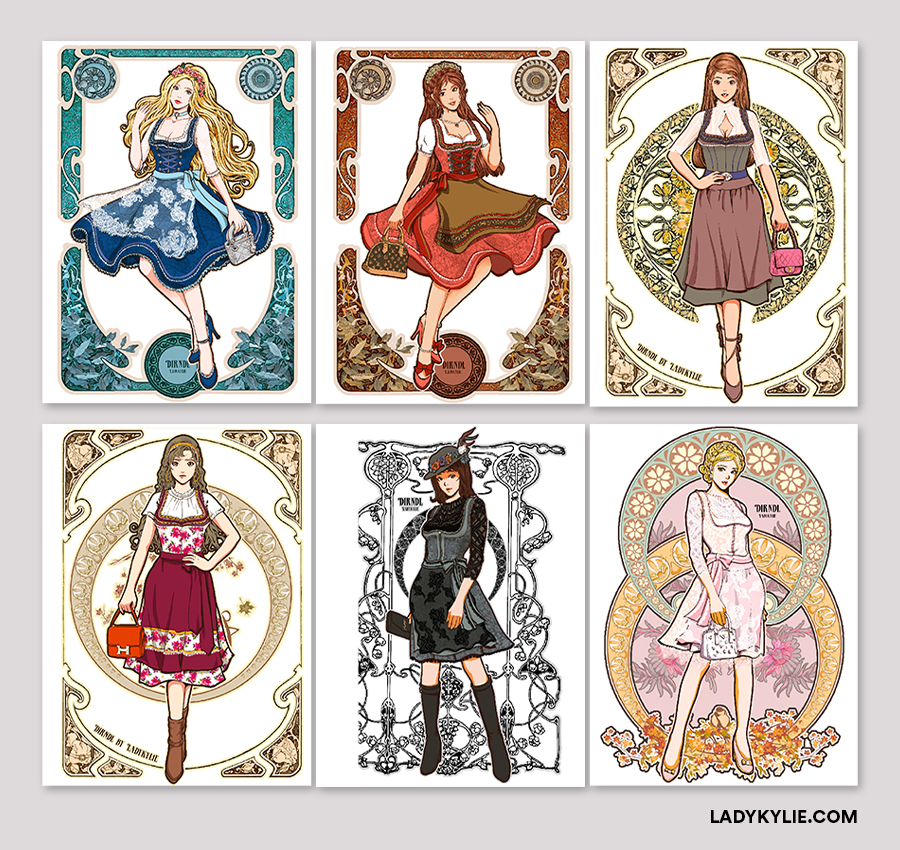 Some Dirndl are longer and some are shorter, but traditionally they are not mini shirt length. The ribbon design at the front from the stomach is a classic Design (I like the ones with ribbons better than the ones without). Blouses are mostly white, some are in lace, others are less transparent. The arm length is also different. So you can choose what you like based on your preference. Aprons are also available in different designs. They always match the Dirndl dresses, some are more modest, some have more pattern or embellishment, some have more lace.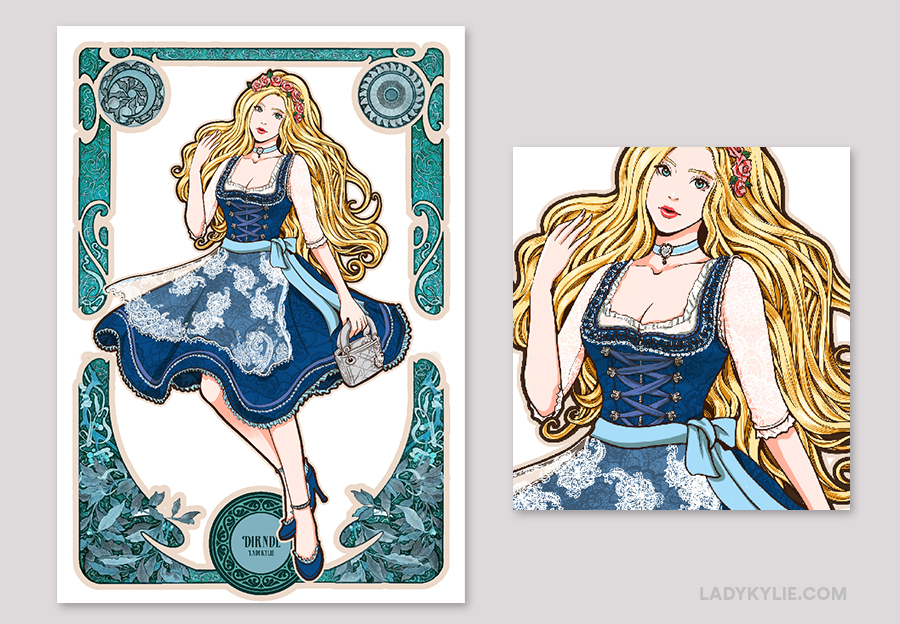 I also love the pink or reddish Dirndl design. Just looking at the Dirndl in these warm colours made me fall in love. It is also very nice to see how the ladies match their headdress and accessories with their dirndl. Oh, the handbags too...
As you may know, how to tie the aprons show whether you are in a relationship or not. (left side: single, right side: in a relationship/married)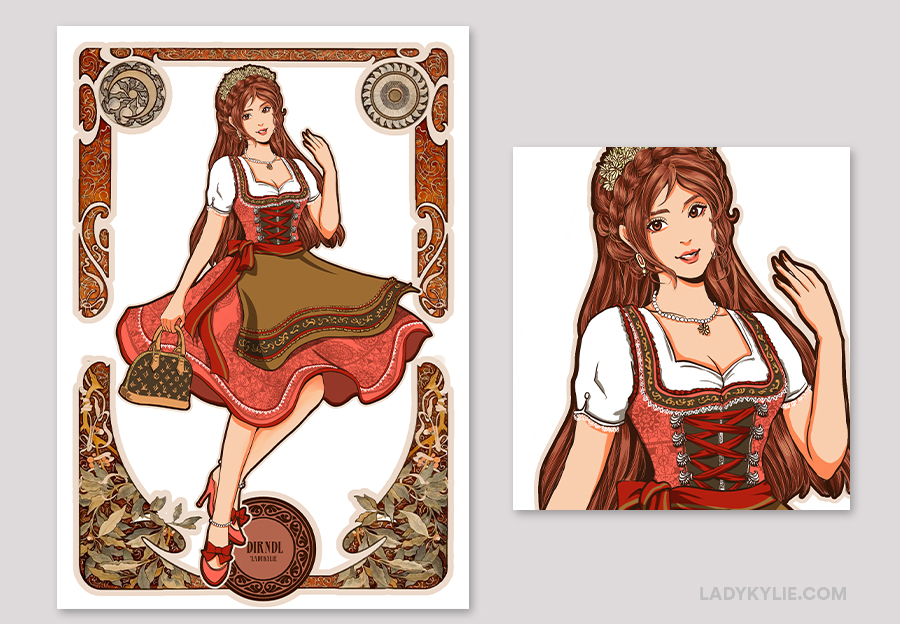 Most of the time I see that the dirndl blouse shows the chest a little more, and some go up to the neck. There is also some design with no ribbon in front of the stomach. I've seen this design on one of the biggest local dirndl brands, that is even without the apron ribbon. Is she single or in a relationship? You have to ask…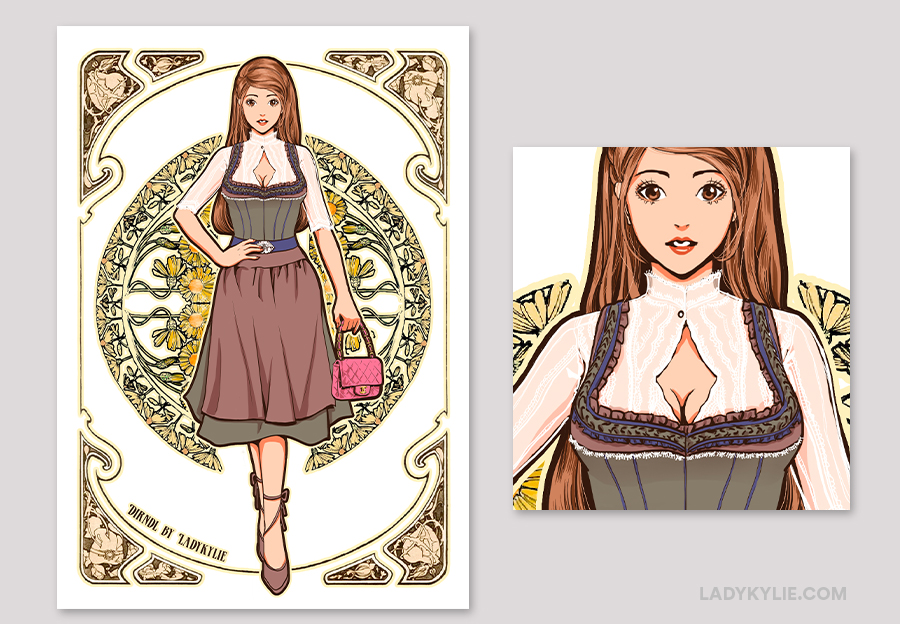 Non-transparent short arm length blouse and large bright floral pattern designs also look good and not out-dated at all. What I also like about the Dirndl is that you can wear high heels, trainers, or boots. No rules.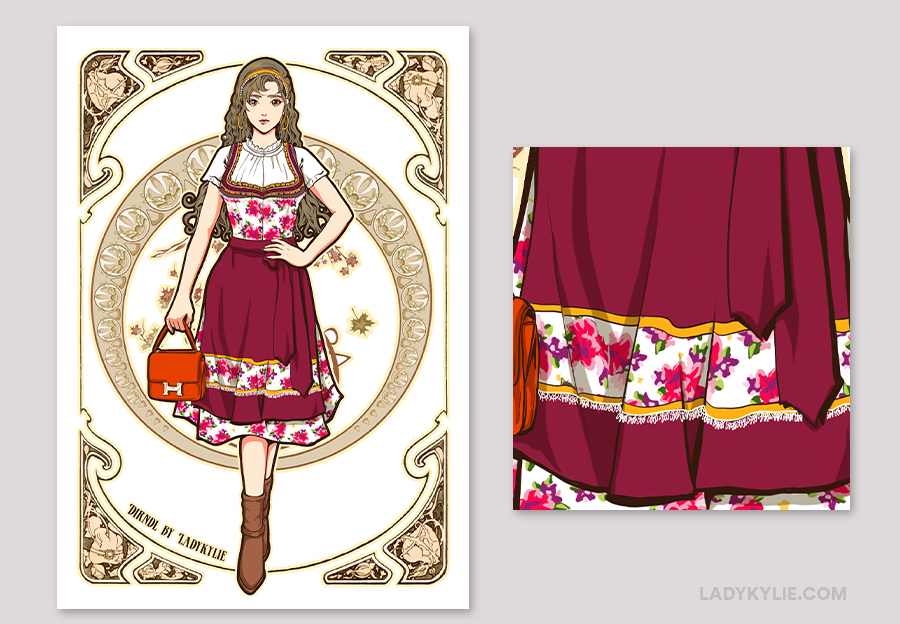 Besides the colourful Dirndl, some Dirndls are in dark themes, or even the Dirndl itself is not black, the blouse is in black lace, or the Dirndl is covered with black lace which is also very stylish. There are also hats to match the Dirndl, and they are often decorated with flowers and feathers.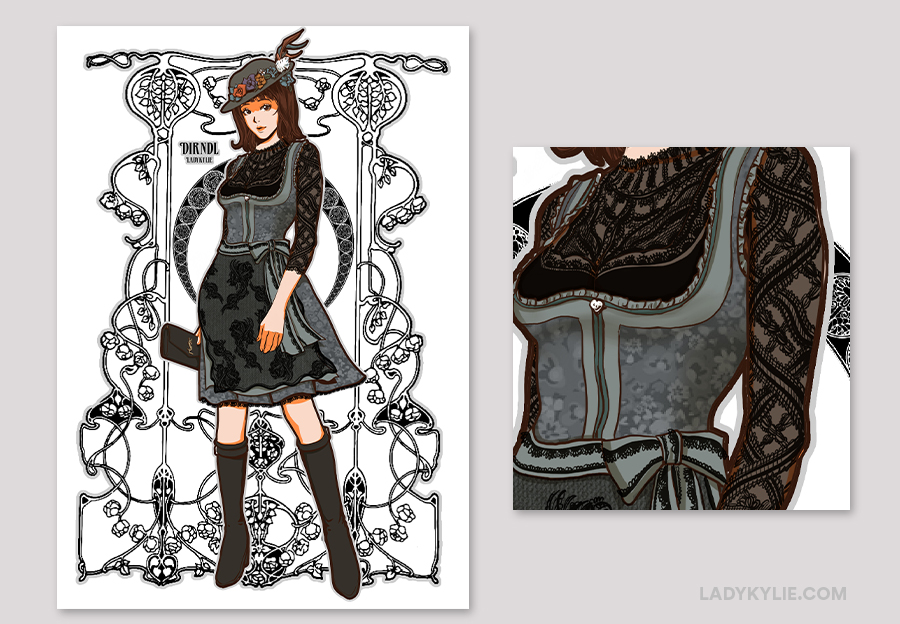 Some Dirndl dresses are designed for weddings. They are usually white or a very light pink or ivory colour with white lace. They can also be everyday wear. Extremely elegant. By the way, Crown braid is the most common hairstyle worn with a dirndl.